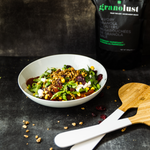 Ingredients
3 medium beets cooked + chopped (approx. 2 ½ Cups)
2 ears corn shucked
1 Cup granolust Rosemary Parmesan savoury granola
1 large bunch green onions chopped (approx. 1 Cup)
1 bunch cilantro chopped (can substitute parsley or mint)
1 teaspoon salt
¾ teaspoon freshly cracked pepper
5-6 tablespoon apple cider vinegar to taste
Instructions
To cook beets, remove stems. Place in bowl with 1 inch water. Microwave for ten minutes, covered. Let cool. Remove skin. Cut beets in half. Cut side down, cut into 1/4 inch clients. For relish, chop beets finely.
After shucking the corn, cut kernels from cob. Stand cob up in wide bowl or on cutting board. With finger on tip, use a sharp knife to carefully cut down each side of the cob.
Combine cut beets, corn kernels, chopped green onion, cilantro, salt, pepper, and apple cider vinegar. Mix well. Refrigerate for 2-3 hours before enjoying.
Top liberally with granolust Rosemary Parmesan savoury granola and serve!